Asphalt Maintenance
When you have a commercial parking lot in the Chicagoland area, it's important to always observe it for any present signs of wear and tear. Any current degrees of wear and tear can quickly and drastically worsen over time, especially under fluctuating and harsh types of weather. Snow, ice, intense sunlight, and more weather conditions can affect the quality, consistency, and lifespan of your asphalt parking lot. In addition to these specific weather conditions, freezing and sweltering outdoor temperatures also have the potential to profoundly affect the quality, durability, and life of your commercial parking lot space. In freezing weather, asphalt material products have the potential to lose a great deal of heat too quickly to allow for and presently maintain proper compaction. Under sweltering weather conditions, such as at or above 90 degrees Fahrenheit, your commercial parking lot may not remain in a preferable or quality state.
Overall, for the most quality, valuable, and long-lasting asphalt parking lot, you want outdoor temperatures to remain reasonably between 50 and 90 degrees Fahrenheit. In addition to the consistently fluctuating and harsh weather conditions of the Chicagoland area having the potential to create and worsen degrees of wear and tear, your commercial asphalt parking lot can also face damage and a decreased lifespan owing to the density of its underlying base course material and the existing thickness of the asphalt's layers. When these ranging factors are present on a regular or consistent basis around your commercial lot area, it can specifically negatively affect your asphalt's strength, stiffness, and ultimate compatibility. While you can't control if and when any one or a combination of negatively affecting factors will be present in or around your commercial parking lot area on a regular or consistent basis, you can control how you engage in pavement maintenance.
Benefits of Maintaining Asphalt
Unfortunately, no commercial business owner in the Chicago area can control what weather may be present on a regular or consistent enough basis to impact their asphalt parking lot negatively. It can be just as likely that you can't control the initial or presently existing density of your sealcoat asphalt or other asphalt parking lot materials or the thickness of your asphalt's layers. There may have been a previous commercial property owner or tenant who engaged in hasty or low-quality asphalt repair, maintenance, or total replacements. They also may not have engaged in one or more of these consistently or adequately enough to maintain a high degree of quality and durability. The excellent news is Nicholas Enterprise Roofing is always here to ensure you remain in control of the quality, durability, and overall lifespan of your seal coat asphalt or other asphalt parking lot. It's essential and worthwhile to engage in asphalt repairs and pavement maintenance.
Regular and meaningful asphalt repair work and asphalt maintenance are not only essential but highly worthwhile to engage and invest in. Asphalt repair and maintenance work is an essential and valuable investment to engage regularly with your commercial budget funds. Putting off or otherwise ignoring and failing to repair and maintain your commercial parking lot spaces can result in various negative impacts. A poorly repaired and maintained parking lot can cause you to endure additional costs and other adverse effects as a Chicagoland business owner. You can face employee liability claims, increased business insurance costs, a higher employee and client turnover, a decreased company reputation, and ultimately, higher repair and maintenance costs for a worse sealcoat asphalt or other asphalt parking lot condition once you decide to engage in repair and maintenance. Nicholas Enterprise Roofing can provide your commercial business with the quality, long-lasting, and reliable parking lot it deserves.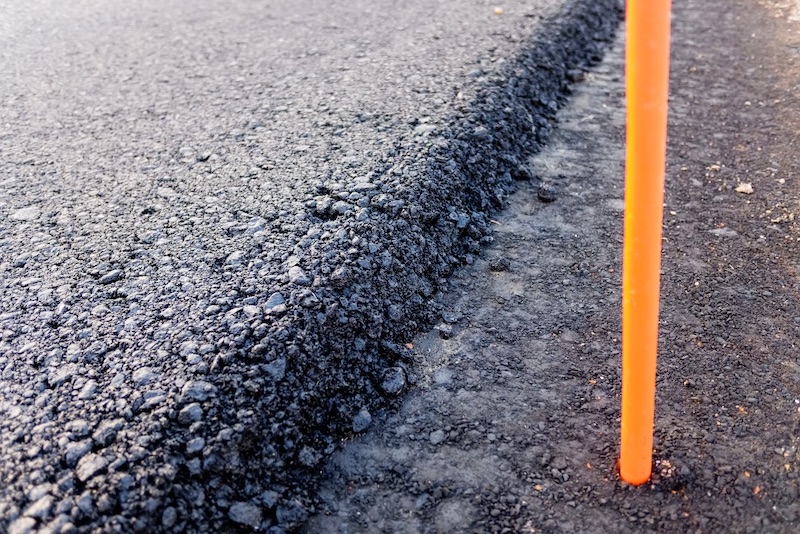 Protect Your Commercial Property Today
When you engage in regular and quality asphalt repair and maintenance, such as with a reputable Chicagoland company like Nicholas Enterprise Roofing, you can enjoy all the benefits of reliable, lasting, high-quality asphalt and other materials and commercial work. Our team can quickly and effectively provide asphalt repair and maintenance work so you can avoid the aforementioned negative impacts of prolonged negligence and avoidance. There's never been a better time to secure and protect your valuable commercial property against environmental and other damage. Our professionals provide pavement maintenance and other parking lot and roofing replacement, repair, and maintenance services to reward your time, efforts, and budget funds with the highest value and quality every time you work with us. Some of our maintenance services include re-roofing, standard and large-scale roof replacements, lot paving, sealcoating, and much more.