Roof Replacements
When your commercial roof in Chicagoland suffers from environmental or other damage, and you are facing the need for a roof repair, partial replacement, or complete replacement, it's essential to know the distinct benefits and impacts of the different options available. Working with a reliable Chicagoland roofing and paving contractor such as Nicholas Enterprise Roofing means you have various quality and ultimately valuable materials and service offerings to consider choosing to match your distinct needs and interests. Some of the top reasons you may need a roof installation or roof replacement in Chicago include asphalt or other roofing material deterioration, weather damage, existing area leaks, rotting or mold damage, present pests or pest damage, broken gutters or other property materials, and more. In addition to these top reasons you may be currently considering engaging a reliable roofing contractor, you may also be thinking about investing in a new roof or roof replacement for other reasons.
In addition to suffering from one or more of the damages or deterioration types above, it can also be expected for commercial property owners to find themselves considering a new roof or roof replacement in Chicago to improve, promote, and otherwise upgrade their existing area business. It's natural for a current or new business owner to want to continuously pursue and engage in improvements, updates, and replacements. You want to always put your best foot forward with existing and potential clients and employees. Putting your best foot forward as a business owner certainly includes consistently working to maintain and promote visually appealing and up-to-date commercial property. You want to continually invest in the visual appearance of your commercial property to portray the highest value and quality to your existing and potential clients and employees. In addition to knowing the impactful benefits, it's also worthwhile to know the details of what a roof replacement involves.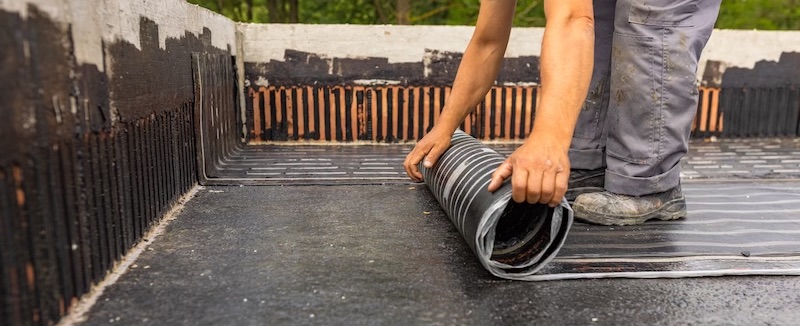 What Does a Roof Replacement Involve?
Just as with any other commercial or other property investment you may consider, a roof replacement can require a certain amount of research, comparisons, and overall evaluations of needs and desires before being completed with satisfactory results. With some increased knowledge and awareness of some of the potential details surrounding your roof replacement in Chicago, you can make the most advantageous choices and more effectively protect and promote your interests and goals. A typical new roof installation or replacement most often involves a qualified roofing contractor carefully tearing off your previous existing roofing materials in the beginning. Your given Chicagoland contractor will generally remove the old roofing materials you have on your commercial roofing structure all the way down to the existing decking. They will then install virtually all new roofing materials and components. These completely new roofing materials and components can include new underlayment and other specific roofing materials, depending on your needs and desires.
A brand-new underlayment for your new commercial roof can provide vital protection for your roofing structure and the rest of your commercial property by association. Suppose the top layer of your roofing material should happen to suffer an unfortunate leak or other damage. In that case, a present roof underlayment can keep your commercial roof safe and dry, promoting higher overall durability and a longer lifespan. You can receive increased protection and safety for your commercial building overall with all new or upgraded roofing materials and associated service work. A new roof installation is an investment, but one that is always worthwhile to pursue and continue to maintain. It can provide you with numerous impactful and ultimately widespread benefits for your ultimate revenue and revenue potential, returns on present investments, and much more. However, depending on your unique budget, needs, and desires, you and your roofing contractor may also decide that a partial replacement or some repair work is more suitable.
Replace Your Roof With Nicholas Enterprise Roofing
When you need a roof replacement in Chicago, Nicholas Enterprise Roofing is here for you! Completely tearing off and replacing your commercial roof can be stressful. Our team of expert contractors at Nicholas Enterprise Roofing is here to help you through every step of the process to achieve the roof replacement and other roofing and paving work you may have an interest in pursuing. From commercial re-roofing projects to larger-scale complete roof replacements, we do it all! Depending on your unique needs, you can always trust our caring team to provide you with the highest quality materials, service work, and results you deserve for your valuable business property.