Roof Coatings
When you have a leak-free, protected, and secure roof for your commercial property, you can enjoy many impactful and highly worthwhile benefits. In the Chicagoland area, your roof can endure various environmental factors that can cause property damage. These negatively impacting environmental factors include certain weather conditions, extreme temperatures, and more. Did you know that roof leaks are among the top reasons why commercial and other roofs have to undergo essentially premature replacements? You can enjoy an impactfully long lifespan with your commercial roof with the available high-quality roofing materials and installation.
In the same way, you can enjoy a much longer roof lifespan when you choose the repair and maintenance work of a qualified, expert commercial roofing contractor. There's no need to settle for the unreliable results you can receive from "roof coating contractors near me" searches. You deserve nothing but the very best results.
As roof leaks are just one of the various unique types of potential damage your commercial roofing areas can face on a regular or consistent basis, it's vital to keep yourself from making the costly mistake of not engaging in meaningful repair and maintenance work. Engaging in significant, consistent repair and maintenance work can support your interests and goals while simultaneously preventing you from enduring various negative impacts regarding your employees, clients, revenue, company reputation, and much more. When you avoid the inconsistent and unreliable results of choosing a "roof coating contractors near me" result, you can enjoy reliable, lasting property protection and security to support your various company interests and goals. With a Chicagoland commercial paving and roofing contractor such as Nicholas Enterprise Roofing, you can enjoy the most efficient, caring, and high-quality service for your budget and efforts. One of the roofing repair and maintenance offerings our qualified technicians can provide is roof coatings and patching.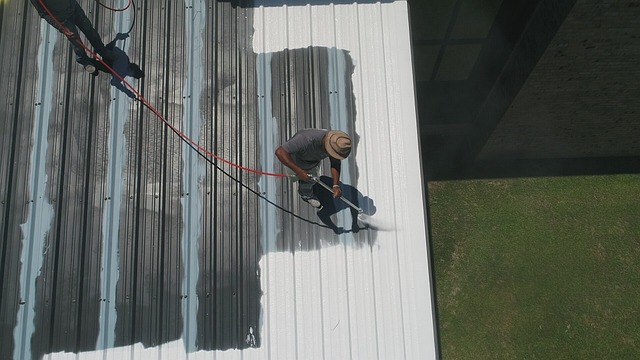 What Is Roof Coating?
So, what is roof coating, and what does engaging in roof repair coating involve for Chicagoland business owners? You can effectively and efficiently extend the overall durability and lifespan of your commercial roof in the area with this valuable roofing service. The design of roof repair coatings is essentially intended to develop and otherwise impactfully protect the needed service life of your existing or new roof assemblies and materials. Common roof repair coating materials from Nicholas Enterprise Roofing to reward and maximize your commercial budget and efforts include, among them, white elastomeric coatings, aluminum coatings, and fiber coatings, depending on your specific business's needs and preferences. These common roof coating materials are all high-quality, long-lasting, and reliable materials to protect and support your business from environmental and other types of potential damage.
White elastomeric roof coating applies as a 100% rubber-like, acrylic elastomeric roofing material. Its overall design effectively protects a range of roof surfaces from damage. Its outstanding reflectivity can also help you lower your commercial property's interior and overall building temperature. These reflectivity results can yield your valuable Chicagoland business energy savings of up to 35%. It applies as a liquid that rapidly cures into an extremely durable and highly elastic membrane. You can enjoy many of the same cooling benefits with an aluminum roof coating. Aluminum roof coating comes in a mix of oxidized asphalt, aluminum, and solvent paste. It can also have some reinforcing fibers for your value. With a fiber roof coating such as from Nicholas Enterprise Roofing, you can enjoy a weather-resistant solution ideal for any flat commercial roofing structure. It creates a reliable film with non-mineral fibers to yield a consistent finish with a cold application and brushable design. It can protect granulated cap sheet, built-up roofing (BUR), smooth surface composition, and SB-modified (styrene-butadiene) roofing structures.
Roof Coating Contractors
Once you know the answer to "What is roof coating?" you can then make more informed, ultimately advantageous decisions to promote and support your unique business's interests and goals. Roof coating in these forms and options is ultimately highly worthwhile to consider adding to your existing commercial roof in Chicagoland. When you choose the services of Nicholas Enterprise Roofing instead of settling for a potentially unreliable, untrustworthy, or even unnecessarily costly search result for your Chicagoland roofing and paving needs, you can enjoy even more benefits to support your business's needs and aspirations. Our expert contractors are proud to continue providing unmatched quality, consistency, and customer service to area business owners. Connect with us today and experience the difference our range of services can make!